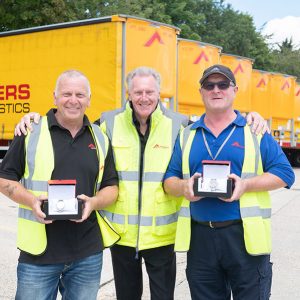 Meachers Global Logistics, one of the UK's leading independent providers of international freight and transport logistics services, is celebrating two team members each reaching their 25 years' service milestone at the business.
Kevin Asher and Colin Bunclark remarkably grew up next door to each other since they were born in Southampton and spent their childhood days playing football together. Fast forward to adulthood and they both joined Meachers within two years of each other in the nineties, Colin as a tyre fitter and Kevin as a warehouse operative.
Colin now works to keep the fleet of vehicles maintained. His job includes anything from fitting tyres and curtain repairs, to MOT preparation on the trailers. "I'm at work for 6am and the drivers come in to pick up their trailers, which is where we sort any defects as soon as possible. I work with one other person and we have different days off, so there's always someone here, but the majority of our maintenance is carried out at the weekends when the trailers aren't in use."
"I love my job and how varied it is, Meachers is such a good company to work for, we never feel under pressure and to be here as long as I have, is a testament to how much I enjoy my job," said Colin.
Kevin started his work life as a butcher but moved to warehousing where he is now a supervisor with a team of six at Meachers. "My day to day job in the warehouse hasn't changed much in my 27 years here, but the introduction of computers has certainly streamlined processes. When you're working alongside such a great team with each person trying to help one another, I'm not surprised I've stayed so long and I hope I'm here until I retire."
Both Colin and Kevin used to be part of the firm's five-a-side football team, entering competitions, however they both admit the younger team members coming through meant they struggled to keep up as the years went on.
Grandchildren keep them both occupied in their spare time although Colin's 17 from six children outweighs Kevin's two by quite a margin. Colin took the plunge in his fifties to skydive to raise funds for an MS charity as one of his daughters in law suffers with the condition but he usually leads a quieter life pottering around and making things as does Kevin who loves golf and gardening.
Gary Whittle, Commercial Director at Meachers Global Logistics said: "Colin and Kevin are truly part of the furniture here at Meachers. They've both not only shown a dedication to their individual roles but also to the company to have such a long service. I think for many people, it's a dream to say they enjoy being at work but as an employer, to hear team members say that, we must be doing something right and that means a lot."