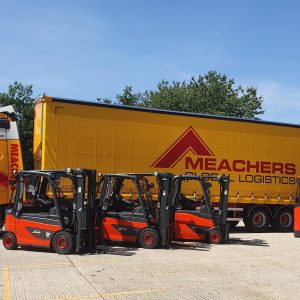 Meachers Global Logistics, one of the UK's leading independent providers of international freight and transport logistics services, has made the switch from part diesel/part electric in its fleet to completely electric.
The logistics giant has always had a predominantly engine powered fleet, but its strive to be more environmentally aware and be conscious of the ever-changing port environment which is steering away from gas and diesel powered trucks, has resulted in the decision.

It's a significant move towards a greener Meachers which saw the business purchase a range of 25 forklifts through Linde. The majority are counterbalance trucks ranging from two to five tonnes in capacity which also included a switch to Linde for some reach trucks dedicated to indoor warehousing too.

Gary Whittle, Commercial Director, Meachers Global Logistics said:
"It was a big decision to make the switch to all electric, however a necessary one in our bid to reduce our emissions wherever possible. Although the purchase costs for the vehicles are higher, the operating costs per truck are significantly cheaper. What was also crucial is the CO2 emissions for the vehicles charging are between a third and half of the emissions from the gas combustion engine emitting exhaust fumes."

Mark Kirby, Business Development for Linde said:
"Our electric range is the ideal solution for Meachers, not only are emissions no longer an issue, but the design of the truck itself makes them highly energy efficient. From the hydraulic systems which power the lifting functions, to their ECO modes which allow operating parameters to be adjusted to suit the application, these features ensure that energy consumption is reduced without affecting productivity."