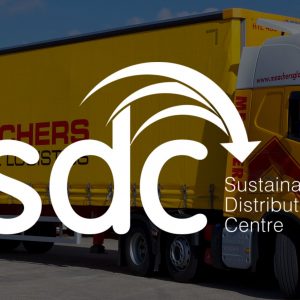 Meachers Global Logistics has joined Southampton City Council in marking a year since the launch of its Green City Charter, with a virtual event.
The charter, launched in summer 2019 cited the goal of the city being carbon neutral by 2030 and pledged to take actions to improve the quality of life in the city. This included the desire for the healthy Life Expectancy Indicator to be the best among the city's peers and to improve numbers of deaths attributed to air pollution when compared to rural areas.
It also pledged to use services and products which support the vision which includes Meachers' Sustainable Distribution Centre (SDC) and consolidation services. Initially renewed by the City Council in December 2019, this was extended earlier in 2020 for another four years to 2023, due to the project's achievements to date.
The Sustainable Distribution Centre offered by Meachers improves local economic efficiency and contributes to a lower carbon economy by reducing congestion and pollution levels in the city through measures including: freight consolidation, storage solutions, reduction in HGV movements, out of hours utilisation and consolidated deliveries.

The virtual event brought together speakers from businesses which have made a difference to contribute to the charter to date and how other businesses can make changes moving forward.

Gary Whittle, Commercial Director at Meachers Global Logistics who spoke at the event said: "Meachers has a proud Southampton heritage and we are committed to contributing towards an improved future for our city and region, the event was the perfect way to bring together those who have been involved and celebrate the achievements to date. Since its inception, the SDC has consolidated 100's of pallets of items that were stored in numerous separate units across the city into one central location. The initiative has reduced the number of Meachers' HGV's travelling into the city centre by 75%.
"We currently offer a number of separate consolidation entities within our portfolio which include one with Southampton City Council directly which has end users of the council, the universities and the hospital just to name a few. We also operate a long-term storage and inventory management system to consolidate some existing freight that was sat within the council's current organisation."
Gary explained to the event attendees that being able to receive goods from suppliers to its Nursling warehouse 24 hours a day, 7 days a week in any number of volumes and frequencies provides a flexible supply to businesses which would then like to see the last mile of delivery be as environmentally friendly as possible.
"When the goods are received, quality checked, inventory checked and notified to the end user, we can then make the last mile delivery at an appropriate time to suit the business. This could, for example, save retail units having delivery vehicles turning up at inconvenient times and puts the end user in control of receiving the deliveries," said Gary.
To find out more about Meachers Global Logistics consolidation solutions and the Sustainable Distribution Centre and take advantage of a complimentary service review, please call Meachers Global Logistics on 023 8073 9999 or visit www.meachersglobal.com