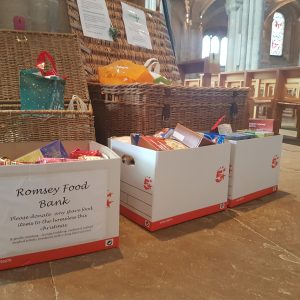 Staff here at Meachers Global Logistics have donated boxes of food and supplies to the Trussell Trust which runs a network of over 400 foodbanks, giving emergency food and support to people in crisis across the UK.
Joss Donnelly; Data Input Team Manager here at Meachers, who spearheaded the initiative, delivered boxes of food and supplies to Romsey Abbey just before Christmas. "At Christmas we are reminded that this time of year can be very difficult and stressful for those in need. We wanted to be able to help people in the local community and make the festive season more enjoyable. The three-days emergency food supplies and some additional treats will provide them with something to eat, and remind them that they are not alone or forgotten."
Meachers has supported a number of local charities with our nominated charity for 2017 being the Saints Foundation. Find out more about how we have helped them here.