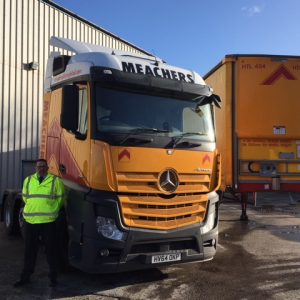 Meachers Global Logistics, one of the UK's leading independent providers of transport and logistics services, has strengthened their sales and management team in both Southampton and Derby.
Due to the increasing transport and warehousing demands at the facility in the Midlands, and company plans to grow the services provided there, they appointed Alun Smith as the new Depot Manager.
Alun brings with him extensive experience and a wealth of knowledge within new business and client relations having previously worked for companies such as FedEx SCS and Alloga.
Commenting on his appointment, Alun said: "The passion and drive to develop the company's transport and warehousing services in the Midlands are second to none and I am privileged to be bought on board to help support and manage this."
The Southampton office has also seen an addition to the Sales department with the appointment of Paul Uglow as Sales Executive. Paul has worked in UK and International Logistics for 30 years in both sales and operational roles.
Paul said: "Joining Meachers has given me the opportunity to widen my skill set and work within a friendly business team."
"We are set to see a prosperous year here at Meachers," Gary Whittle, Commercial Director, said. "We currently have half of our fleet operating out of our Derby facility and the demand is growing. The refurbishment will assist Alun in providing the best possible service for our customers. Along with Paul's extensive knowledge in international freight forwarding, it looks for a promising year."
Meachers has recently been recognised for its work within the Transport and Logistics sector by winning the Motor Transport Partnership award and being Highly Commended in the Supply Chain Excellence awards for its environmental efforts.