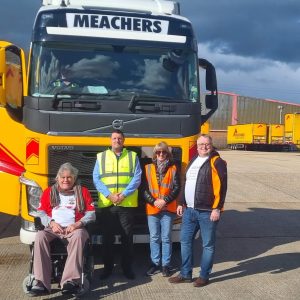 Meachers Global Logistics is providing free storage to a Southampton fundraising organisation so it can use more of its hard-earned funds to support the positive work it does in the local community.
Saints Disabled Supporters' Association (SDSA) was set up in 2010 and aims to promote the welfare of Southampton FC's disabled supporters.
After expansion saw it needing to move to rented storage to hold its display equipment and promotional items, Meachers stepped in to offer it free storage space at its Nursling warehouse.
Gary Whittle, Commercial Director at Meachers, said:
"We were introduced to the SDSA through our association with the Saints Foundation, which Meachers is a proud patron. Times are hard right now and fundraisers especially are finding it tough.
"We are delighted to be able to support the SDSA and help it allocate funds to where they can make the biggest impact. We've agreed to hold the stock for as long as we are making a positive contribution to their work."
Paul Lucas, SDSA Secretary, added:
"We are so grateful to Gary and the team at Meachers for their support. This will have a positive impact on our association. It will allow us to direct more funds to helping those we support and give us the confidence that we have enough storage space to support our work now and in the future."

To find out more about the SDSA and its work, visit: https://saintsdsa.org.uk/