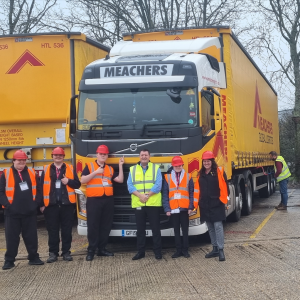 Students from Prospect School paid a recent visit to Meachers Global Logistics, to gain insight into the logistics industry and the processes and equipment involved in getting goods from A to B.
Prospect is a high school, based in Havant, that provides day education for boys with social, emotional and behavioural difficulties.
The six students arrived at Meachers' Nursling site for an introduction into the logistics industry and to observe how a leading global logistics company operates.
Meachers' Commercial Director, Gary Whittle, led the visit with an introduction into the business. It covered an overview of the services Meachers provide, and insight into the role and careers its industry can offer. This was followed by a tour of its warehousing facilities.
Gary Whittle said:
"It was a great privilege to host the students from Prospect School. They showed a real interest in logistics and asked some great questions about the types of businesses we work with and the careers our industry can provide. From the food we eat to the clothes we wear; everything relies on our vital sector to keep moving, and it was great to show this in action."
Michèle Aldridge, head teacher at Prospect School, added:
"I'd like to thank Gary and the team at Meachers for welcoming us – it was a great and insightful day for our students, who really enjoyed the experience of seeing first-hand what's involved in getting goods from A to B. Our school seeks to raise aspirations and help build futures for its students. Visits like this play an important part in that. They give real insight into how businesses operate and the career opportunities their industries can offer."