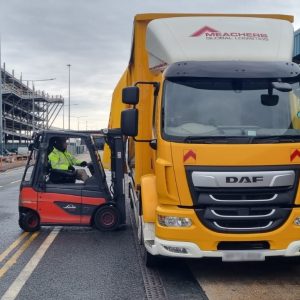 Meachers Global Logistics and the NHS have joined forces for the second time to transport essential medical supplies that will be shipped to Ukraine. The shipment started at the Meachers Southampton depot and ended at Winchester Hospital. The supplies were then delivered to Croydon, where they will be shipped to Ukraine to support their health care system throughout the conflict.
Darren Vale, Transport Manager at Meachers Global Logistics said,
"We take great pride in collaborating with the NHS to aid the people of Ukraine at this time of need. At Meachers, we're committed to serving the communities we work with, and consider it an immense privilege to provide our support to Ukraine through this initiative."
The partnership between Meachers and the NHS highlights the important role logistics companies play in ensuring that essential goods are delivered efficiently and effectively, particularly during times of crisis.
Mark Wilks, Chief Supplies Officer at Wessex NHS, added:
"I'd like to pass on my sincere thanks to Darren and the team at Meachers, who worked incredibly hard to get these vital supplies collected and delivered quickly and efficiently. This important aid will now make its way to Ukraine to support the country during the conflict."