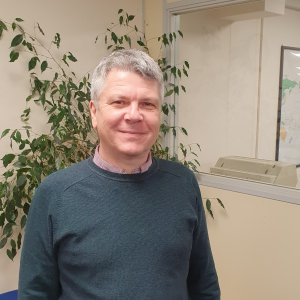 There can't be many employees who have been with their employer since the age of 18 and over 30 years' later are still loving their job. Mike McMahon, Meachers' Surface Export Manager has though, since he left college at 18 and started with Meachers in 1986 as a Dock Runner and Import Clerk.
Back then, Mike spent much of his day picking up and dropping off paperwork all over the Southampton port community when most of the shipping lines and agents had regional offices in Southampton and when original documentation was king. "The internet has impacted my role in such a positive way, with email communication and electronic documents however although there's less driving, the admin has increased," said Mike.
Mike's current role of a Surface Export Manager sees him manage a team of three in the export service department.
"Very few days are the same except for my routine of checking for any emails which may have come in overnight. As we are working with customers and suppliers from all over the world, this results in emails arriving 24/7. It also means you never know what the next email or call may bring whether it's shipping one box from Southampton to Rotterdam or a full tunnelling system from Germany to Canada."
Some of the bigger projects, particularly chartering vessels for larger shipments have brought Mike the biggest sense of achievement. "Although stressful, it can provide a great sense of satisfaction when oversized projects including underwater ploughs, tunnelling machines and ROW spreads have been delivered safely at their destination."
Mike believes the next five years will provide many challenges within the freight industry, both in the UK and overseas but feels Meachers is in a strong position to not only meet the challenges but overcome them. "We have a depth of experience and the stability to build the business to take advantage of the opportunities which will inevitably arise and i think environmental concerns will play an increasingly important role in the way we conduct business going forward."
In the next five years, Mike still expects to be in his current role but with the challenges leaving the EU will present which will likely create a more complicated customs process.
In his spare time Mike enjoys spending time with his family, seeing live music and doing home DIY.