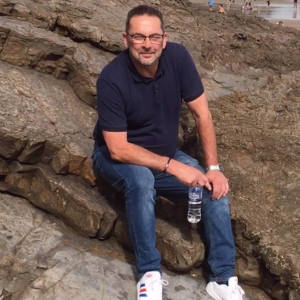 Although the home of Meachers Global Logistics is on the south coast, its Derby depot is a hub of activity with a thriving warehouse and logistics team led by Alun Smith.
Alun joined Meachers in 2017 as the Derby Depot Manager after undertaking various roles in warehousing and transport for 30 years. He grew up in Oxfordshire, later moving to Mansfield where he lives now.
The main responsibilities of Alun's role is to ensure the smooth running and profitability of the Derby site, covering both warehouse operations which are now open from Sunday night to Saturday morning. "There's around 30 people in my team which includes warehouse, admin and drivers so there's a lot to keep on top of."
A typical day for Alun starts by checking all the runs for a drinks client are on time and that the night shift operation has been completed on time. "Throughout the day I'm checking emails, approving invoices, helping to resolve any client queries ensuring that all orders and jobs are completed on time and accurately." Alun loves working on the drinks client as no two days are the same, "anything can happen on the road, normally just as you are ready to finish the day!"
Alun feels his biggest achievement at Meachers followed the commencement of a new nightshift contract in October 2019. This involves splitting up to 52 pallets of bathroom accessories (everything from a tap to a bath) into around 18 van routes. "As this was outside the normal site operating hours, it's provided a few management challenges, however it's now running very well and our customer is about to sign a new extension with their client."
Over the next five years, Alun would like to see the business implement its plan to grow operations in and around the Midlands and on a personal level still be working at Meachers but with a larger and more diverse operation.
Alun loves to spend any spare time with his teenage son, particularly going to football as they both support Mansfield Town FC. "Of course holidays abroad in the sun are a yearly must (COVID allowing)!"