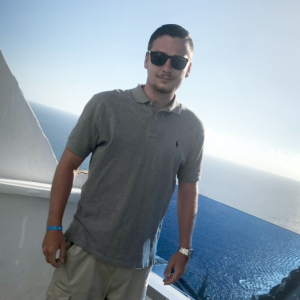 Mason is Southampton born and bred and joined Meachers in January 2021 following our acquisition of AFS Haulage. Working in transport for over ten years, it's an industry he enjoys as the days are both busy and varied.
Mason is part of the close-knit team behind the Meachers' Pallet Network. This is our service for the collection, storing or nationwide delivery of palletised goods from SO postcodes.
Mason's days are busy. He plans the drivers and liaises with customers to ensure their freight is delivered on time.
"My days are really varied. They involve interacting with drivers and warehouse staff, planning and routing the drivers' runs for the day, and ensuring all deliveries are completed on time. I also upload PODs for our offshore deliveries, manage the ICL account and provide customer service to our Meachers' Pallet Network customers."
Mason also manages a large export account, something he sees as one of his biggest achievements. It's his job to ensure their freight is collected on time and meets the export container.
"I enjoy working within our team. We have a lot of fun in the office. I also like the challenge of working in transport and having to solve problems when they occur. The driver shortage was very scary for the whole industry, but we managed it well as a depot."
Over the next five years, Mason wants to continue gaining experience and taking on more responsibility in his role.
Meachers' Pallet Network
Needing overnight, nationwide delivery of your palletised goods swiftly, securely and efficiently from SO postcodes? Learn more about the Meachers' Pallet Network by visiting: meachersglobal.com/pallet-network