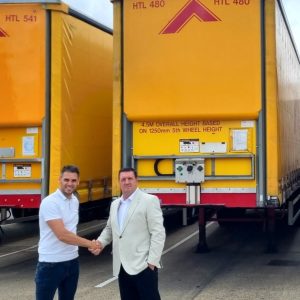 Meachers Global Logistics has entered into a three-year contract with Millbrook Beds Ltd to exclusively manage and operate theirUK transport requirements.
The new agreement, which began on 8 July 2022, sees Meachers move from supporting Millbrook Beds Ltd with the UK distribution of its beds and mattresses to fully managing it.
Included is a Transfer of Undertakings (Protection of Employment) (TUPE) and asset transfer, whereby Meachers will integrate all of Millbrook's drivers and a number of trucks into its own business, consolidating both fleets.
Gary Whittle, Commercial Director at Meachers, said:
"We have a longstanding relationship with Millbrook Beds, which spans more than 10 years. I'm delighted to strengthen our relationship further with this new long-term agreement that will see Meachers become its total and sole UK logistics partner.
"The scale and geographic location of our fleet, combined with our knowledge and reputation for providing a high level of service, is something we are incredibly proud of as a business. Equal to that are our customers and the trust they place in us to keep their operations moving."
Ross Thurston, Operations Director at Millbrook Beds Ltd, said:
"We have worked with Meachers for many years and are extremely pleased they have now taken over as our exclusive logistics partner. With Meachers' extensive fleet and logistics experience, the delivery service we can now offer to our customers will improve significantly, enabling us to continue our expansion throughout the UK.
"I'd like to thank Gary and the team at Meachers for all their help and support in making the transition unbelievably smooth with no disruption to our customers."