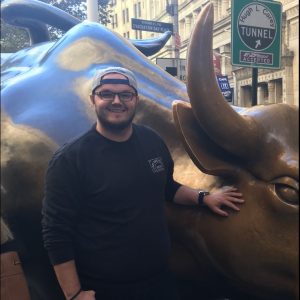 Darren Vale, 32, joined Meachers in November 2018 as a Traffic Planner, where his extensive, 11 year experience at DHL as a Freight Supervisor meant that his expertise in depot management and groupage loads was instantly a great addition to the Meachers team.

The key responsibilities of Darren's role include Fuel Management (ordering fuel), liaising with customers and their enquiries, as well as finding backloads, assisting with the main planning of the fleet and ensuring all vehicles and trailers are ready for service through keeping MOTs and maintenance up to date.

Within his role at Meachers, Darren particularly enjoys the versatility as no two-days are the same. "One week we might have 400 containers arriving that we need to cover, then the following week it could be a large amount of curtainside or flatbed work. We always find a way to manage, no matter the requirements as a department, we adjust any plans or resources at a moment's notice."

Working within a team of eight, Darren's typical week consists of firstly downing a swift coffee before ensuring all the night work has run smoothly, as well as sorting any issues that may have arisen in this time. Then it's a matter of ensuring the team is ready to go at 9am in the operations meeting and planning ahead for any challenges that may face them during the day. This is before plowing ahead and getting in contact with hauliers and customers, as well as being on standby to give his colleagues a hand when needed.

Darren's role has evolved greatly since starting at Meachers, as his initial role was in Containers before moving into Traffic Planning. "When I arrived I had a decent knowledge of Transport and Warehousing. I began on containers and found this extremely interesting and challenging as it was unlike anything I had done previously. It didn't take me long to pick it up and after that I moved on to the planning side of things, such a Tacho Analysis and the Traction Hauliers."

Looking to the future of the company, Darren would like to continue to grow in his role alongside Meachers' growth as a company, and move into a management role upon passing his CPC course. "I would like to see Meachers continue to grow in all areas as it has done so in my small amount of time here. In the next 5 years I would like to see the industry continue to move into Greener pastures with clean energy vehicles and lower emissions."
"Living in the heart of Southampton means that I see on a daily basis the amount of Pollution we have as a city and I think Meachers can greatly help with that."

Darren is proud to be a part of the Meachers team, especially during the time of the pandemic. "I would say my proudest moment at Meachers has been supplying the Covid-19 tests for one of our biggest clients. I love that we can be called 24/7 to provide a driver to collect a sample and run this to the lab, which ultimately just keeps you on your toes."

Despite the challenges that 2020 brought to the company, for example, the vast increase in container volume, Darren has embraced the changes through his ability to instantly adapt and alter operations depending on the needs of the customer. "I would say that my biggest achievement so far at Meachers would be that I have learnt all of the major planning roles in the office, which has allowed me to become able to help out across all areas when required. I also believe I have built up good rapport across different departments as well as with our customers."

Darren lives in Southampton in Freemantle, a stone's throw away from the Quay-Side, which is "sometimes not always a positive….", and enjoys spending his time sea fishing and making the most of the Solent, travelling (when possible), and being an avid Liverpool FC supporter. But most importantly, Darren loves spending time with his family and friends, where his biggest achievement outside of work has been becoming a Dad, as "there is no bigger challenge in my life than raising two daughters."