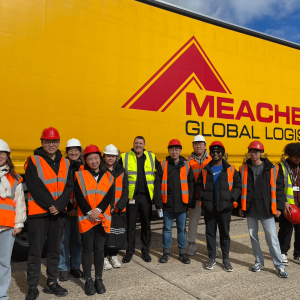 Meachers Global Logistics welcomed students from the University of Southampton for a visit to gain crucial insight into the logistics industry from a leading global logistics company.
The group of 16 students, studying Transportation Planning and Engineering, visited Meachers' Nursling facility in Southampton.
The visit was an opportunity for the students to gain real-world insight into the logistics industry and see first-hand how a leading logistics company operates.
The day began with a talk from Meachers' Commercial Director, Gary Whittle, who gave an overview of the company's history and explained the types of services Meachers offer, including freight forwarding, UK transport and distribution and warehousing.
He also emphasised the importance of accreditation in the logistics industry, and how processes change and evolve over time.
The students were also given a tour of Meachers' modern warehousing facilities, where they got to observe the processes and procedures involved in logistics.
Gary Whittle, Commercial Director said:
"We were thrilled to welcome the students at the University of Southampton and provide them with a comprehensive understanding of the logistics industry. As a company, we take pride in our duty to leave a legacy and believe that inspiring the next generation of logisticians is vital to safeguarding the industry's future."
Tom Cherrett, Lecturer at the University of Southampton added:
"This is just one of the many visits that I've done while teaching this module, and it continues to be a key element of the learning structure. Before the visit, we conduct a series of lectures to equip students with the theoretical understanding of the concepts they will encounter. Today's visit serves as a crucial supplement, providing an important practical element to reinforce those concepts and further develop their understanding."
ENDS