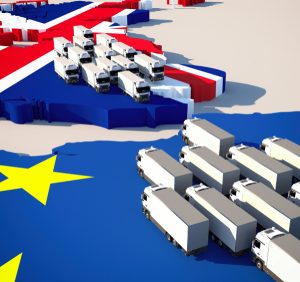 When the UK left the European Union at the end of 2020 it brought into force changes which affected businesses large and small through every link in supply chains.
From 1 January 2021 the free movement of goods between the UK and the EU came to an end and the introduction of new import tariffs and regulations left many businesses facing challenges incurred by the red tape restrictions.
As specialists in exports and imports, Meachers Global Logistics has been helping its customers to navigate the implications of Brexit and transition to comply with the new rules.
When we were approached by a small and local independent retailer, who had been struggling to keep business going after Brexit, we used our experience to help find an international supply chain solution.
A Southampton specialist food store was facing huge difficulties organising the transportation of their meat-based products from Europe. Before Brexit, the European meat-product suppliers were arranging their own transport of the goods into Britain.
After the shop owners' requests for help with the imported goods were turned down by other transportation companies, the expert team at Meachers stepped in to handle the export and import clearance paperwork, and arranged for transportation of the specialist goods.


"I was delighted that Meachers stepped in to help me – they are so helpful and friendly and sorted out all my paperwork, as well as arranging a reliable delivery of the goods I need for my business. I am very grateful to Meachers and have booked with them for future deliveries."
The retailer found that having Meachers deal with the entire operation proved not only easy but also cost-effective. We used our in-branch experience to source the right transportation for the customer quickly and smoothly.
"We are pleased to support a small local business which relies on imported goods, especially as other freight operators have been unable to help. We were able to offer the retailer our industry knowledge and expertise in transporting the goods and handling the newly-introduced Brexit customs procedures for her"
Paul Uglow, Commercial Manager, Meachers Global Logistics
Meachers is proud to be at the forefront of international freight and transport logistics, providing all of our customers with solutions for freight forwarding, supply chain management, UK warehousing, distribution, training, transport, and contract management.
For more information:
To find out more about navigating the logistics of exports and imports, and making your supply chain work more efficiently for your business, please call Meachers Global Logistics on 023 8073 9999