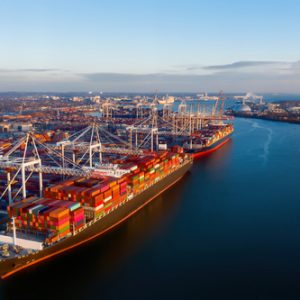 The Port of Southampton lies at the heart of why the south-coast city is such a logistics capital for the UK and the world.
A cruise, container and vehicle-handling mecca, the Port is a heavyweight in supply chain logistics, steeped in maritime history and today an epicentre for the UK economy.
As the largest transport company in Southampton, here at Meachers Global Logistics our team has been handling products for our customers through the Port for over 60 years. We have a long-standing relationship with the Port, and are proud to be an integral part of the supply chain, connecting our customers with all aspects of it – from global sea freight forwarding, to consolidation and delivery services for its cruise companies.
An anchorage of economic activity, the Port's 726 acres within Southampton hold some compelling statistics, and offers a vast gateway of opportunity for companies importing and exporting.
With modern warehousing at the Port of Southampton and our main operation close by, we're able to ensure the smooth flow of your goods in or out of the UK.
Whether you are a business already using the Port, or looking to start doing so, Meachers can help you navigate your way through the Port operations, and deliver a complete supply chain solution for complete peace of mind.
The perfect port location – naturally
Southampton's 17 hours per day of rising water thanks to the Port's double tides allow the largest container and cruise ships access for up to 80 per cent of the time.
To its coastal south, Southampton is naturally sheltered by the Isle of Wight, close to international shipping lanes and less than 100 miles from mainland Europe.
To the city's north is mainland UK, connected by road via the M27 motorway, by rail with direct rail links to the main railway network for both freight and passenger trains, and by air through Southampton International Airport.

Container productivity
Southampton's five-berth container terminal is operated by DP World Southampton. The Port is the UK's most productive container port, and its purpose-built deep-water quay can handle the biggest ships in the world.
Meachers Global Logistics works closely with DP World, forming part of its network of feeder services from Southampton Container Terminal to destinations around the UK.
Meachers collects, delivers and moves over 300 containers a week to and from the UK via shipping lines for our customers based all over the world. We also handle customs clearance for companies who are importing or exporting through the container port.


Cruising towards growth
As Europe's leading turnaround cruise port, Southampton welcomes around 1.7 million cruise passengers per year and is home to the UK fleets of both P&O Cruises and Cunard Line as well as being used regularly by Royal Caribbean International, Fred Olsen Cruise Lines and Saga Cruises.
Following the recent opening of the new £55m cruise terminal Horizon, five state-of-the-art cruise terminals are now in operation, all with ship-to-shore walkways.
Meachers supports the Port's cruise industry supply chain through storing and handling goods required by the Carnival ships.

A vehicle for the UK economy
The Port of Southampton is the UK's number one vehicle handling port, serving around 820,000 vehicles each year.
The Port has 80 hectares of dedicated vehicle storage across five multi-storey car parks in the Eastern Docks. The facilities are rail-connected with regular specialist trains, and connected by road.
Meachers is involved with the roll-on and roll-off for heavy equipment at the Port such as diggers and tractors.
Bulk benefits
The Port's terminal for bulk goods in the Western Docks handles over a million tons annually including animal feed, fertiliser, scrap, aggregates, salt, and biomass products.
An export grain-silo terminal is located in the Eastern Docks.
Meachers specialises in bulkier cargo, working with companies who are bringing bulky goods from abroad, bringing it through our supply chain and into our quayside warehouses for redistribution.
Keeping things cool in handling fresh produce

Southampton's Canary Islands Fruit Terminal has extensive specialist facilities dedicated to fresh produce, with chilled storage capacity dedicated to handle a wide variety of chilled fruits and other high-value products all year round in Southampton.
Freeport for the future
Meachers welcomed the announcement by Government earlier this year of The Solent's Freeport status which will make Southampton, and The Solent, an even better environment for international trade.
The status will simplify customs procedures, documentation and reduce tariffs in the Port of Southampton, with the potential to attract £2billion investment, and create 52,000 jobs.
Meachers Global Logistics is the number one choice for total supply chain management for any business importing or exporting through the Port of Southampton.
The path to Supply Chain Nirvana is simple when you call Meachers Global Logistics.