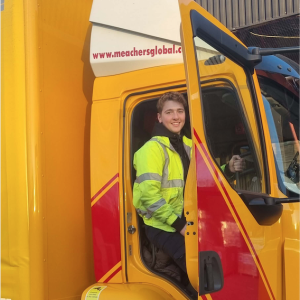 Meachers Global Logistics has added newly-qualified HGV driver Ed Ralls to its team thanks its Warehouse to Wheels driver training programme, which gives participants the opportunity to gain their Category C driver's licences (Class 1 and 2) whilst in employment at the business.
Warehouse to Wheels allows people to experience warehousing and driving trucks in a practical way. Throughout the programme they get to explore different aspects; from loading and unloading containers and palletised goods, to using forklifts and the training needed to become a fully qualified Meachers' driver.
Ed started the programme in March after joining Meachers in February 2022. At the time his main duty was handballing – the loading and unloading of containers. Ed's manager saw potential in him and asked if he'd be interested in enrolling onto the programme. Ed hasn't looked back since.
"I would 100% encourage anyone thinking about applying for the scheme to go for it," says Ed. "It's an opportunity that can set you up with a career for life. Not only will you come out with a Class 1 licence, but you'll also have the opportunity to work alongside a fantastic team.
"To begin with I was working with containers and palletised goods, but I was soon given the opportunity to get my forklift licence, which was great as it meant I got an additional qualification and could support my colleagues more. Alongside working in the warehouse, I also completed e-learnings and prepared for the theory tests."
After passing all his theory tests, Ed moved on to the practical aspects of driving. He passed his exam and became a certified Class 1 qualified driver in November 2022.
Gary Whittle, Commercial Director at Meachers, added:
"As a business we are always considering ways to make it easier and more accessible for young people to enter our industry. This was the thinking behind Warehouse to Wheels – a programme to allow people to experience what working in logistics is like and set them on a path to a rewarding career. We're really delighted that Ed's hard work and efforts have paid off and want to congratulate him on achieving his licence."
For more information about the Warehouse to Wheels programme and how to apply, visit Warehouse to Wheels or email [email protected]