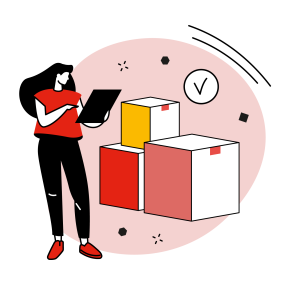 Rachael, an Operational Planner
Rachael joined the team as an experienced pallet network manager, a role that has since been extended to include warehouse manager and a promotion which Rachael cites as a highlight of her career within the business so far.
As a young woman working within the industry, Rachael hopes that the transport sector will continue to thrive and encourage more young people to join the industry.
Working within a team of nine, Rachael manages a network of drivers and warehouse staff; routing the drivers, managing customer services, ensuring all the staff are happy and working to the best of their capabilities, managing the capacity of the network within deliveries and collections and planning resources accordingly.
Speaking about her role, Rachael explains: "One day we have six drivers out delivering, and the next day we have ten due to high volumes. I start each day by checking on the pallet drivers and doing a walk around the warehouse to see how the day has started. I then deal with all the customer service enquiries and make sure everything is running smoothly."
Her favourite thing about her time at work is the people: "We are at work more than we are at home', she adds, 'so I am glad I have my work family."
Join Rachael and take the first step towards an exciting career.
Fill out the form, upload your CV and tell us which areas of the business you are most interested in.
Thanks for your enquiry – we'll be in touch soon.