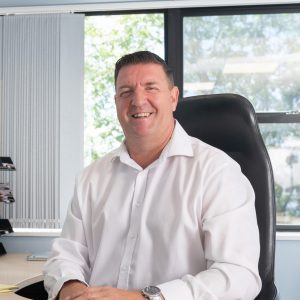 Gary Whittle, Commercial Director, shares his thoughts on the acquisition of AFS Haulage and why the future looks bright for Meachers Global Logistics.
Why did Meachers see AFS Haulage as the right fit for acquisition, and why now?

Meachers Global Logistics has been looking to expand its portfolio and services for quite some time. We kept a keen eye on the marketplace, waiting for both an opportune moment and an ideal company to acquire. In this time we identified AFS Haulage, with its impressive fleet and strong reputation being a key driver behind the acquisition.

We feel that the marketplace is ripe and ready to welcome broader service provisions, especially around pallet movement and groupage, which is why we believe that now is the most ideal time for the acquisition. Ultimately, these services will provide stronger solutions to supply chain management and add to the current service levels that Meachers Global Logistics can offer today.

What synergies do you see between the businesses and how will this benefit the customer base for both entries?

The synergies of adding the AFS Haulage portfolio to the Meachers Global Logistics current portfolio are quite broad. The range of services that AFS offers, such as the pallet networks, groupage services and out of gauge activity that Meachers currently does not offer will be a huge benefit to both client bases and ultimately being a natural progression from where we are today.

The other synergy is the ethics and culture that both AFS Haulage and Meachers Global Logistics share. AFS is a family run company with a strong and admirable team, whose customers are their number one priority and view them in exactly the same way as Meachers Global Logistics.

How will you ensure the smooth integration of AFS employees within the Meachers team?

We believe that integrating the AFS operation as smoothly and seamlessly as possible into Meachers Global Logistics will be relatively easy. Again, this is due to both businesses having very similar ethics and culture. To begin with, I will be directing this newly combined team of staff and uniting them through picking the best strategies from each operation, whilst ensuring that customer service quality is our top priority.

In combining AFS and Meachers Global Logistics, there is a range of services within each company that they may not offer individually. Whether this is freight forwarding services or international rail and air movements from Meachers Global Logistics, or the pallet networks and out of gauge activities from AFS Haulage, the newly combined services will hugely benefit both customer bases.
How are you planning on staying ahead of market demands now and after the pandemic and Brexit?

One of the main reasons for the timing of the acquisition is the current crisis we're experiencing. The challenges brought to the supply chain by both the pandemic and Brexit are of course the toughest we've ever seen. However, we believe that by broadening the range of services, through the combined services of Meachers Global Logistics and AFS we can only make that process easier. For example, this could be through the use of Meachers' International Freight Forwarding division, which moves goods through to Europe by air, sea road or rail, before then taking advantage of the international pallet network brought to us by Palletways.

How are you planning on merging the AFS and Meachers brands?

With regards to the branding of the new entity, I think our experience would show that if we're buying a company with distressed or poor service levels, then we would look to dilute that company as quickly as possible. However, that is not the case with AFS Haulage. It has a very strong reputation in the marketplace, with good quality people and great customer services. So, our view is that we will dilute that brand over a period of time with AFS ultimately becoming Meachers Global Logistics, but we're not in a great rush to do that, as we're not inheriting a problem company.

What does the future look like for Meachers Global Logistics?

So, how do I see the future for Meachers Global Logistics? I think that the acquisition is a huge opportunity for both organisations and their customer bases. I'm delighted to be welcoming some new colleagues into our portfolio and I think using the best industry practices from both organisations, will only benefit our customers and our other employees.

So, whilst things are tough in the supply chain, we recognise that we do believe we've now got all the tools that we need to drive onto the next level.

Read more about Meachers' acquisition of AFS Haulage at: https://meachersglobal.com/meachers-acquires-afs