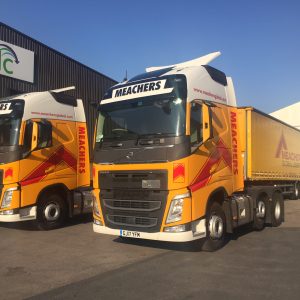 Businesses and organisations in the Southampton area can achieve more efficient and sustainable deliveries by utilising a bespoke service that has been developed by Meachers Global Logistics and Southampton City Council.
The Sustainable Distribution Centre is an innovative logistics solution which consolidates deliveries for businesses and organisations across Southampton, whilst reducing congestion and pollution in the city.
Operating from a 20,000 square foot site based on the Nursling Industrial Estate in Southampton, the Sustainable Distribution Centre allows deliveries to be made into the warehouse, avoiding the city centre and reducing congestion. Deliveries are then consolidated and delivered to city centre customers in fewer deliveries and at off-peak times of the day.
The consolidation of deliveries involves receipting, storing or grouping goods with other loads destined for the same location, then delivering consignments together to reduce the number of delivery vehicles travelling into those areas.
Meachers' credentials in successfully delivering consolidation services for both the public and private sectors are proven by its provision of similar services for Carnival UK and the Solent Alliance.
How consolidation of your deliveries through the Sustainable Distribution Centre can benefit your organisation
An ideal solution for large retailers, office buildings, restaurants or any company receiving regular deliveries in the city; the Sustainable Distribution Centre offers great efficiency savings to businesses with significant supply chains and a requirement for low volume frequent delivery items.
The Sustainable Distribution Centre is also hugely beneficial to the public sector; hospitals, health services, other public sector bodies and universities can all make efficiency savings through delivery consolidation.
Existing public sector users of the service include: University of Southampton, Southampton Solent University, New Forest District Council, Southampton General Hospital and Southampton City Council.
Consolidation of your deliveries by using the Sustainable Distribution Centre means:
Fewer deliveries into your business
Scheduled and convenient delivery times
Fewer delays through convenient times of travel
Opportunity for night-time delivery
Storage solutions enabling bulk ordering
Opportunity for savings through joint procurement
Increased control of products on-site
Less administration and resources
Less congestion and safer roads
Economic efficiencies
Collection of returns and transfers and waste management
Improving your organisation's green credentials
Contributing to a greener, safer city
As a port city and logistics hub, Southampton has increasing levels of congestion and heavy goods vehicles in the city. The reduction of vehicle movements through consolidation will help reduce air pollution and congestion on our roads at peak times.
The Sustainable Distribution Centre is designed to directly address these issues for the benefit of businesses and residents, ensuring that we are all minimising our impact on the local environment whilst continuing to support the city's economic growth and prosperity.
The initiative contributes to the Green City Charter for Southampton: to create a cleaner, green, healthier and more sustainable city, and to be carbon neutral by 2030.

Users of the Sustainable Distribution Centre are contributing to a lower-carbon economy for Southampton. Reducing the number of heavy goods vehicles going into the city centre, lowering CO2 emissions, congestion and noise pollution and improving safety on our roads.

The Sustainable Distribution Centre is forecast to reduce the number of heavy goods vehicles travelling into Southampton City Centre by up to 75%, (potentially 6,900 vehicle movements per annum – excludes heavy goods vehicles travelling to the docks).
By using the Sustainable Distribution Centre your organisation can help to reduce Southampton's Carbon footprint by up to 75% and decrease the output of other harmful gases caused by heavy goods vehicles.
"Meachers Global Logistics has a proud Southampton heritage and we are committed to contributing towards an improved future for our city and region. We are using our industry experience, innovations in logistics technology, unique supply chain partnerships, and local understanding of the area to deliver consolidation solutions. Both the public and private sectors are recognising the benefits of smarter and sustainable logistics, and working with us to help achieve improvements for residents, businesses and the environment of the Southampton area."
Gary Whittle, Commercial Director, Meachers Global Logistics.
For more information:
With an esteemed 60-year reputation in warehousing and logistics solutions on the south coast, Meachers Global Logistics has an unparalleled understanding of logistics in the Southampton area.  
We would love to support your business in achieving supply chain efficiencies whilst making our city greener, safer and better.
To find out how you can consolidate your deliveries into the city of Southampton please call Meachers Global Logistics on 023 8073 9999 for a complimentary service review.