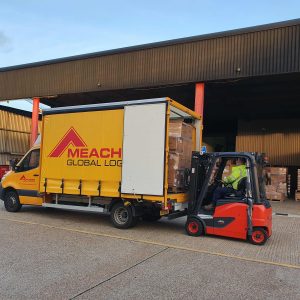 Meachers Global Logistics, in partnership with Southampton City Council and Wessex Procurement are supporting the University Hospital Southampton NHS Foundation Trust with the storage and delivery of PPE. This new partnership is providing the local NHS Covid hubs with urgent PPE supplies when needed.

This new PPE supply arrangement is being offered through the Southampton Sustainable Distribution Centre (SDC); a service procured by Southampton City Council and operated by Meachers Global Logistics. With over 600 pallets of PPE in secure storage at the SDC, the Hospital has a central point to review stock levels whilst also benefiting from ease of delivery directly to the NHS hubs at convenient times and on-demand. Consolidating stock in this way is expected to reduce the total number of deliveries made into the city, easing congestion and reducing emissions. 
The SDC offers business an 'out of the city' storage facility where goods can be consolidated, delivered on-demand and stock levels monitored and managed. The benefits include redirecting heavy goods vehicles intended for the City Centre to the SDC based off the M271 in Nursling. Contents are unpacked, grouped together and then either stored on-site or re-packed onto a single vehicle. Deliveries from several suppliers intended for one end user are consolidated and HGV trips reduced.
Road emissions have been highlighted as a major contributor to air pollution levels across the city. The SDC forms one part of the council's Green City Plan which includes actions to reduce harmful pollutant levels, decrease vehicle movements, specifically HGVs, and improve air quality and the carbon footprint of delivery services in Southampton. One of the key themes in the Green City Plan is to deliver cleaner air, this is led by the council's Clean Air Strategy and actions including minimising the number of more polluting HGVs from entering the city.
Councillor Steve Leggett, Cabinet Member for Green City & Place, added: "This partnership highlights that positive outcomes happen when businesses across Southampton partner together. We are helping to provide essential services by supporting our local NHS during the pandemic while
also reducing the impact on the local environment from the additional deliveries expected.
We are committed to creating a Green City, we set ourselves challenging, ambitious goals to ensure we continue to support economic growth but in a green and environmentally sustainable way. We can only do this through partnership work with businesses and residents. Meachers Global Logistics
is one of our Green City founding signatories, and the provision of the SDC service by their team is indicative of the shared vision to reduce climate change and create a better place for present and future generations."
Gary Whittle, Commercial Director at Meachers Global Logistics said: "We are delighted to be able to help during these challenging times. We had already started to store a small amount of PPE for the Trust but when we were asked to provide a more complete logistics solution, which includes
inventory management and onward distribution, as well as warehousing, we were happy to be totally flexible and provide the range of services that are required to keep the supply chain for the Trust's PPE reliable and robust."