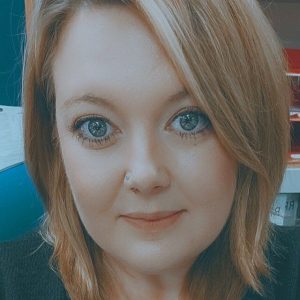 Sarah Nicholls, 33, joined Meachers in 2016 as Administration Assistant, bringing experience and enthusiasm from her background in customer services and sales.
The varied responsibilities of Sarah's role include liaising with Carnival UK and the ships for material delivery requirements, planning loads to meet the ships at various ports, creating dangerous goods movements by road and sea, creating warehouse picks for the team, creating jobs for onward invoicing, liaising with suppliers, booking transport requirements with the export and transport teams, and liaising with the team on the ship.
Within her role, Sarah has especially enjoyed being involved with the new ship Iona. "I am particularly proud of being given the responsibility to handle the new ship build Iona and becoming a DGSA (Dangerous Goods Safety Advisor)."
Working within a team of four, Sarah's typical week involves answering supplier queries, answering emails to the logistics team and the various ships, planning material and when it can be loaded for onward shipment, creating transport jobs and producing dangerous goods notes for onward road and sea transport, speaking to the team on Iona, purchase order updates and movements, and creating pick notes for the warehouse team for a particular ship.
Sarah's role has evolved since she started at Meachers, particularly throughout 2020. "I find a lot more people within Carnival UK and suppliers, know they can rely on me for answers to their queries and know I will get the task in hand completed quickly and smoothly. With COVID-19 there have been very big changes within warehouse product intake and trailer and container requirements have reduced. But it is an honour to work through the pandemic and continue to service the ships and make sure the crew have their personal mail items to boost overall morale."
Looking to the future of the company, Sarah sees herself in a project-based role becoming more involved with planning and customer queries. "As three big ships are due to come into the fleet, I would love to see a bigger warehouse, more trucks on the road and a bigger team all working together in the positive working environment we all currently maintain."
Sarah is proud to be part of the Meachers team. "I thrive in being positive and I always want to know I have helped in some way by the end of my working day. The team I work within makes it all so enjoyable and the support received from management pushes me to thrive and better myself any way I can every day. I take great pride in knowing I am part of the servicing of these massive floating hotels."
In 2018 Sarah was diagnosed with cancer and reflects on the experience as a significant achievement. "The biggest achievement for me was being able to carry on with work throughout and to muster the strength and determination every day, even though it was hard. I achieved not letting the fear affect my life and where I am now."
Sarah lives in Hythe, and whilst not at work, she loves going for a dog walk and being in the forest, wild camping with her fiancé and dog. She loves to have a cuppa and a chocolate biscuit whilst watching a good old black and white comedy.