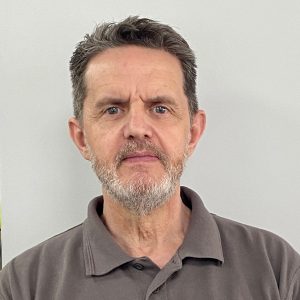 Joining us in March 2021, Glyn has worked in the transport industry for over 36 years. In that time, he has seen many changes, from emission laws and drivers' hours to the types of cargo being shipped.
Glyn is one of our transport operators and works in a team of six. He is responsible for the daily planning of our fleet of articulated, and rigid, vehicles at our Fair Oak depot.
A typical day for Glyn is an early start, arriving at the depot for 7am when he will book in drivers, check trackers and make sure that vehicles are where they need to be.
This is followed by a check of his emails to see what work needs to be managed for our customers. Then it's on to planning vehicles for the next few days.
Glyn works closely with his colleagues to log in jobs, check in with drivers and make sure customers are kept updated on the status of their deliveries.
What he enjoys most is working on some of the more specialised transport projects. One for our customer Prysmian Group, involving HIABs (truck-mounted cranes), was a particular standout.
While Glyn is not convinced of the idea of driverless trucks, he says that he would like to see EV tractor units come on before he retires.