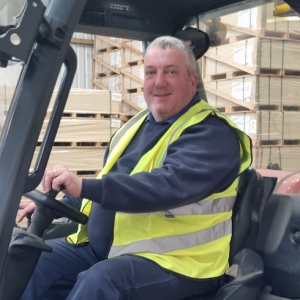 Benx, the leading UK facades supplier, has launched a new award to give recognition to the hard work and achievements of the people it works with.
We are delighted to announce that Meachers' Ian Greenaway has become the first recipient of the Benx External Partnership Award.
Ian manages our Eling Wharf warehouse in Southampton and is responsible for supporting Benx with its storage and transport needs.
Picking, labelling, loading and unloading vehicles in a warehouse of over 2,300 pallets, Ian does a fantastic job to ensure it remains safe, orderly and immaculate.
Ian was nominated by Benx's Mark Bagnall, who came up with the idea of the recognition scheme.
On why Ian was nominated, Mark said:
"Ian rightly deserves recognition for the service he provides Benx, and for the current standard he has created whilst looking after Benx over the last few years.
"He has a fantastic knowledge of our products and could tell you where any product is in the warehouse. He also has a great relationship with our drivers and customers and will go above and beyond to help them out."
Huge congratulations to Ian for winning the award, and a massive thank you to Mark and the team at Benx for their kind recognition of Ian's hard work.