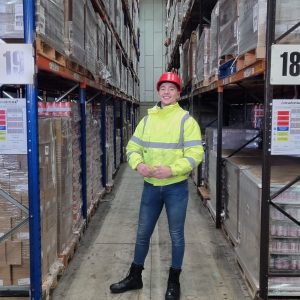 Ed is one of the newest members of Meachers, having joined us in February 2022 through an agency to assist with hand-balling – the loading and unloading of containers.
Ed's manager saw great potential in him and asked if he'd be interested in enrolling onto our Warehouse to Wheels driver training programme, which gives participants with no prior HGV driving experience the opportunity to gain their Category C driver's licence (Class 2) whilst in employment and earning a competitive wage.
Always wanting to be a truck driver, at one stage Ed considered joining the RAF as a possible route to help him realise his goal. Not wanting to be away from home for long stretches of time, he instead decided to seek an alternative path that was closer to home.
Working at an agency, Ed found his way to Meachers and we're really pleased he did. He's now enrolled onto our Warehouse to Wheels programme to begin his driver training with us.
Ed says: I'm more of a family person, so I wanted to join a company that's not only local to me but also one that feels like a family and looks after everyone, which I've seen here at Meachers over the last three months.
Now he's officially started the Warehouse to Wheels programme, Ed's patiently waiting on the provisional truck part of his driver's licence to be processed, his medical and then he's all good to go and begin his training.
Ed adds: It's really exciting to get things kicked off. There's going to be greater career prospects and this is something I can look forward to and work towards over the longer term. I want to stay with Meachers for as long as I can and see where this exciting new journey takes me.
With the help of his trainer, Ed will begin learning all aspects of being a HGV driver, which will include route map planning, vehicle safety and the driving essentials such as manoeuvring/reversing, refuelling and coupling.
On what he would like to see happen in logistics over the next few years, Ed wants to see more young people enter the industry:
"I want to see more people like myself having the opportunity to develop and for the same opportunities to be offered to similar candidates. For myself, it's driving a 40ft artic truck for Meachers.
If you would like to find out more about the benefits and entry requirements for our Warehouse to Wheels programme, click here.