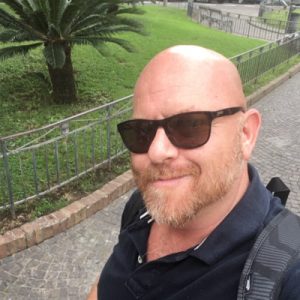 Meachers' Transport Operations Manager Andy Sheppard joined in 2014 with a varied transport background of customs, operations and container logistics, with the unique opportunity of no set role, giving him the freedom to use his previous skills to access and implement new ideas and improve what already existed at Meachers.

"I was part of a small team looking to freshen up what was an already hugely successful transport department. Although the rest of that team has since moved on, my own intentions were clear from the beginning as soon as I became aware of how professionally run the business was and where it was going in the future. Over the years I've been lucky and unlucky enough to experience the full spectrum of standards the Logistics industry has to offer and I concluded very quickly I prefer to travel first class!"

Local to the south coast having grown up in Ferndown, Dorset, Andy quickly entered employment at a time when college was less fashionable. "My father was heavily involved in the transport industry and a chance meeting with a transport company set me on my current path.

Andy's role as Transport Operations Manager involves him overseeing a team of eight, plus up to 70 drivers across the country. "It's my job to join all these together to achieve their best. We have managed to create a hugely desirable atmosphere to work in. The traditional transport environments can be very different from the high tech corporate world we work in these days. The team around me are full of different characters and I enjoy the challenges that brings on a daily basis.

"Transporting freight is actually quite simple and most things can be overcome with a simple but much forgotten level of a common sense approach. The complications come from either a lack of knowledge, appropriate skillset to carry out the chosen function, inconsistent information or the high level of legislation that ensures our industry works to the highest standards."

Since Andy joined Meachers the transport department has significantly improved profitability while continuing to provide a service of excellence to customers. "I'm proud to have been an integral part of the team which achieved these results and continues to do so." Things have not only changed in the transport department since Andy's arrival but also across the business with the majority of new business enquiries including container logistics as a service requirement, which saw Meachers take advantage of its location at the Port of Southampton and capitalise on the demand. "More and more of our own vehicles and extensive use of approved subcontractors are engaged in container movements to and from the Port so the only surprise is probably why we hadn't done this earlier."

Looking forward to the next five years, Andy sees big developments in the technology available with vehicles which will see a big impact on how much the driver has to do and their working environment. "I think the next big change will be the use of alternative fuels and electric powered vehicles. While this is now taking hold in the car industry with battery and charging technology improving significantly, Meachers is beginning to filter these into its commercial vehicles as a viable option and really improve its environmental impact."

Having met his wife when he was 18, Andy is a proud dad of two grown up daughters who flew the nest in 2016 leaving mum and dad to embark on a new chapter at an apartment in Westbourne, Bournemouth for a lifestyle of seaside living and bright lights of bars and restaurants. Andy is also a huge motor racing fan and a late developer in supporting Southampton Football Club.

One thing's for certain with Andy, transport's in his blood. "As a child I used to spend hours playing with toy trucks, making depots, offices and warehouses out of old cassette tape boxes. I would always have a fleet of vehicles and trailers driving from one set up in my bedroom to another sometimes venturing out into the hallway on long distance runs. Somehow I would always find a reason why a driver had left without the correct paperwork so I needed to drive for hours to meet him in the coolest matchbox car I could find out of my extensive collection! All I'm really doing is playing out childhood dreams in an adult world."