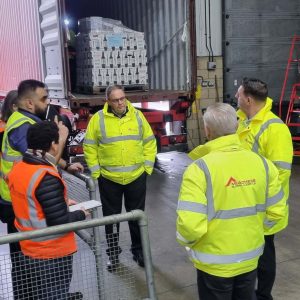 Meachers Global Logistics welcomed industrial researchers from Cambridge University to its Southampton headquarters for a workshop, in conjunction with UKWA, to find out how best to deliver digital logistics on a shoestring.
UKWA has been working in partnership with the University of Cambridge to investigate opportunities for small and medium businesses (SMEs) to apply digitalisation to their supply chains without the challenges of huge investment cost or complex installation.

Meachers Global Logistics Commercial Director and UKWA Board Director Gary Whittle, and a team of colleagues hosted the event with Industrial Associate Elizabeth Salter, Doctoral Researcher Jaime Macias and Research Associate Anandarup Mukherjee, all from the University of Cambridge.

It included a tour of the operations at their Nursling site, giving an overview of how containers are both loaded and unloaded, and insight into how Meachers carries out these processes.

Gary Whittle said: "Meachers is delighted to be working in collaboration with UKWA and the University of Cambridge in developing the research team's Digital Logistics on a Shoestring project. 

"By giving them an insight into the processes we use in global logistics and providing guidance on how SMEs can modernise their processes through digitalisation, we hope this will lead to greater improvements in accuracy and efficiency for the logistics industry.

"We look forward to working together on this innovative programme in the future and welcome potential opportunities to develop the project further in support of small and medium sized firms nationally and internationally."

Elizabeth Salter said: "Our workshop at Meachers was extremely informative in giving the research team a first-hand account of how a successful logistics company operates. 

"SMEs often see digitalisation as inaccessible due to cost and perceived complexity, so UKWA is supporting us in developing and testing digital solutions using low cost off-the-shelf technologies and open source software to solve real industry problems."
"Our project will identify low cost and easily adoptable solutions – providing new tools to drive efficiency, improve accuracy and compete effectively."

Digital Logistics on a Shoestring is affiliated to the Digital Manufacturing on a Shoestring project (www.digitalshoestring.net), which is led by the Institute of Manufacturing (part of the University of Cambridge's Engineering Department), initially funded through an Engineering and Physical Sciences Research Council grant, and delivered with the support of key partner, the University of Nottingham.