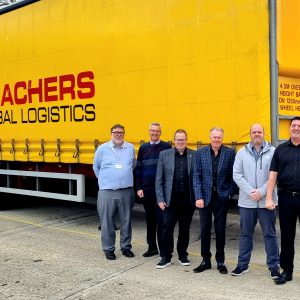 Meachers Global Logistics Chairman Bob Terris has been the driving force behind the company's success for the past 60 years – and is now celebrating a diamond work milestone.

At 17, Bob joined the Meachers' family-owned coal and transport company, based in a small hut in a gravel yard in Westfield Road, Totton.

His career journey has featured many challenges – recessions, strikes, the financial battle to buy back the company after it had been bought as a plc subsidiary by Pirelli – but he is proud that Meachers has become one of the UK's leading independent providers of international freight and transport logistics services.

On April 1st 2022, Bob celebrated his diamond work anniversary and he has lost none of his enthusiasm for business that he had when he started – he's in the office by 8am and stays up to date with what's happening within the industry.

Bob is happy that the company still maintains a family feel. Two of his sons work at Meachers – Stuart is Managing Director and Jamie is Fleet Director. In addition there are Directors Noel Fensome (Finance), Gary Whittle (Commercial) and Rob Lewis (International Operations).
He said: "My sons and all my Board Directors have been with Meachers for more than 20 years and we've all grown together. We get on well, enjoy work and all pull in the same direction – which is critical."

Jamie Terris said: "My father's passion, dedication, honesty and work ethic has led to an incredible 60 year career, in which he has built an extremely successful company and overcome many difficult challenges. To work with my family is an honour but to have him as my dad is an absolute privilege."

Stuart Terris said: "Having received all the nurturing, mentoring and support that would help shape both my management style and my ability to run the business from Dad, the biggest compliment I can pay him is that he knew exactly when to empower and elevate the responsibility of the management team below him, including myself. He has given the benefit of all the experience accumulated over his 60 years with the business, and has supported every decision we have made as if it were his own."

Looking back over his landmark 60 years with Meachers, Bob has seen impressive organic growth and is still as ambitious as ever for Meachers to continue its success story for future generations.

Bob was born in Bristol, but moved to Southampton in 1962 and joined former coal merchant Fred Meacher and his three sons at Meachers Transport Ltd, as the first employee outside the Meachers family, in the role of traffic controller.

From the outset, he enjoyed his distribution work at Southampton Docks, sending imported produce to markets around the country on Meachers trucks. The business developed throughout the 1960s and 70s, moving to a two-acre site in West Quay Road and acquiring warehouses in Eastleigh. Bob was promoted to Transport Manager, General Manager and became Director by 1976.

Bob was Managing Director when Meachers agreed to sell the business to Pirelli in 1981. As a public limited company subsidiary, Meachers expanded its business to include freight forwarding, bonded warehousing and commercial garaging for its transport.
In 1988, Pirelli decided Meachers was no longer a core business and sought a buyer for the company. Meachers moved the business to its current Nursling headquarters and Bob led a management buyout. In 1996, he persuaded Pirelli to part with the business and became Chairman in 2011.
Meachers' growth continued to bases including Southampton Docks and the Sustainable Distribution Centre at Nursling, across Hampshire and in Derbyshire.

Bob said: "We've had tough times, been through several recessions, national docks and lorry drivers strikes, complex global supply chains and the challenges of Brexit and Covid more recently. Our clients know we are always straight with them and we provide the efficient service they need. Our philosophy is: 'Do it right the first time and you've only got to do it once!' and we treat people the way we want to be treated."

When Bob stops to relax, he enjoys playing golf and watching sport, especially football and cricket – he's Honorary Vice President of Hampshire Cricket. He enjoys gardening at his home in rural Hampshire and spending time with his wife Josie and their family.

He said: "It's 60 not out for me! The plan is to carry on as long as I feel I'm making a contribution – I love it."