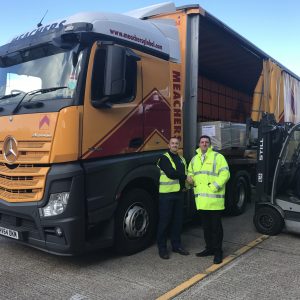 Major supplier to the UK construction industry, RCM, have appointed Meachers Global Logistics as their UK third party logistics partner.
RCM, who specialise in cement based building boards, facades and complete wall solutions, chose Meachers based on the total logistics solutions which could be provided. With over 700 containers arriving through the port of Southampton every year, Meachers now handles all imports through the port, warehousing, picking & packing along with forward distribution around the UK.
"This contract is a fantastic opportunity for us to show how we can provide a total solution for our clients. The containers are delivered into port, we collect them and sort at our Warehouse based in Southampton and we then organize it's onwards transport via our fleet of over 70 vehicles. The partnership is really starting to flourish and I am excited about what the future holds." Said Gary Whittle, Commercial Director of Meachers Global Logistics.
"In addition we currently manage in excess of 1000 palettes of stock from our Nursling facility and distribute in both part and full loads countrywide", add Gary.
David Lennox, Operations Director, RCM said: "Meachers was an obvious choice for us. They are not just a supplier they are our logistics partner. The relationship we have embedded over the past months is invaluable and they have delivered great service throughout. Having a total solution has really helped release time at our end so that we can concentrate on growing the business knowing that the logistics side is in safe hands."