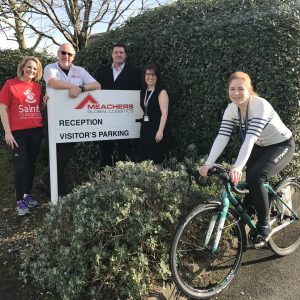 Members of staff from one of the leading transport and logistic companies, Meachers Global Logistics, are taking up a number of challenges in aid of two local charities over the next couple of months.
Four members of staff from across the business are participating in the Saints Big Bike Challenge, on behalf of Saints Foundation, which will see them cycle 180 miles from Stoke City FC all the way down to Southampton FC just in time to watch Saints play Stoke in the last game of the season.
"This is a massive challenge over two days, but we have all been putting the training in and it is starting to pay off. Each training ride I do I feel stronger and more confident for the 180 mile trip down to the South Coast in May." Comments Joss Donnelly, Data Input Team Supervisor as Meachers.
Four other members of staff are also taking part in Walk the Wight on Sunday 14th May in aid of the Earl of Mountbatten Hospice. This will see them attempt to walk the full 26.5miles across the Isle of Wight in less than 12 hours.
Mandy Jerrim, Personal Assistant, said "I have tried to complete this once before but the weather came in and we had to turn back. This year we have a great team: Myself, Hannah Powell, Shaun Wiggall and Amy Wells, and we are determined to complete it in style."
And to finish off the fundraising trio, Hannah Powell, Marketing Manager at Meacher, has put herself forward to run the ABP 10k in April in aid again of The Saints Foundation. "I used to run almost daily before I had my son, so I thought what better way to get back into running again than to challenge myself with the famous 10k and to complete it for a fantastic local charity which is committed to inspiring and delivering positive change to young people and vulnerable adults across the South Coast."
Gary Whittle, Commercial Director at Meachers and one of the Big Bike Ride team members said: "It is great to see the staff coming together to not only help local charities but to harness team work across the different departments. We have already raised over £1500 for the Saints Foundation on the Bike Ride alone."
To donate towards Team Meachers for Walk the White you can visit https://www.justgiving.com/TeamMeachers or for Hannah Powell for the ABP 10k Marathon for the Saints Foundation you can text HPSF99 with the amount you would like to donate (EG HPSF99 £5 70070) to 70070