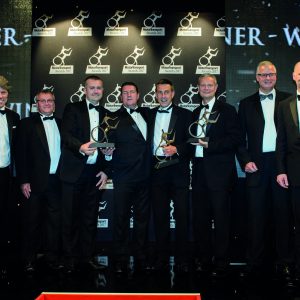 Meachers Global Logistics, one of the UK's leading independent providers of logistics services, is celebrating after winning the Motor Transport Partnership Award; one of the most prestigious accolades in the industry.
Together with Isle of White based Steve Porter Transport, and Solent ferry operator, Red Funnel Ferries, Meachers fought off fellow finalists Alltruck/DX, Arla/Danone, Cemex UK/Continental, DFDS/Magnavale and Parcelforce/Screwfix to take the top spot at the glamorous award ceremony at the Grosvenor Hotel, London this week.
Gary Whittle, Commercial Director at Meachers said: "We are so delighted that we have won such a prestigious award in conjunction with Steve Porter Transport and Red Funnel and that this successful partnership has been recognised nationally in this year's Motor Transport Awards. The Solent Alliance demonstrates a unique way of working.  Its success comes from each company bringing a high-level of core expertise to the different aspects of off-shore operations."
The Solent Alliance was formed in 2012 in which this unique partnership has been recognised for. All three partners work together to consolidate the number of inbound and outbound freight deliveries which happen to and from the Isle of White through Southampton.
Kevin George, Red Funnel's CEO commented "We are delighted to win this award in conjunction with Steve Porter Transport and Meachers Global Logistics. The partnership is virtually unique in the UK and draws upon the strengths of each organisation to offer an unrivalled range of benefits for customers, while providing significant cost efficiencies."
Steve Porter Transport Managing Director, Malcolm Gibson, said: "We are truly overjoyed to win this prestigious award in conjunction with Red Funnel and Meachers Global Logistics. It acknowledges true partnership working, which is required when moving significant volumes of cross-Solent freight.  The transport of goods on and off the Isle of Wight has been enhanced by the Solent Alliance and I'm delighted to be part of a great team and look forward to witnessing the partnership continue to flourish."