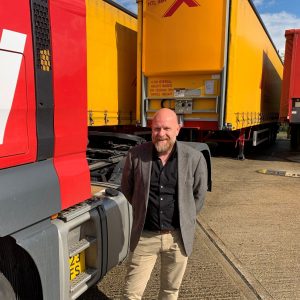 Transport industry leader, Meachers Global Logistics, has appointed Andy Sheppard as Depot Manager at Fair Oak, Hampshire. Andy makes the transition into the new role within the company, after seven years as Transport Operations Manager for Meachers in Nursling, Southampton.
The appointment follows Meachers' acquisition of AFS Haulage at Fair Oak earlier this year; a move which will see the expansion of the company's business by adding specialist vehicles, including HIAB and flatbeds, to its fleet.
As Depot Manager at Fair Oak, Andy will play an integral role in Meachers' continuity and running of specialist haulage services at the site, whilst overseeing and steering the company's future plans for growth.
Southampton-based Meachers Global Logistics has built an esteemed 60-year reputation in transport, warehousing and logistics solutions underpinned by exceptional customer service.
Andy has an extensive professional background in the transport industry, having gained experience through roles in customs, operations, and container logistics. In his preceding role as Transport Operations Manager at Meachers Global Logistics, Andy significantly improved profitability whilst overseeing 70 drivers across the country, providing a service of excellence to customers.
Gary Whittle, Commercial Director, Meachers Global Logistics said:
"The reputation and success of Meachers Global Logistics is entirely reliant upon, and by virtue of, our talented and dedicated team. The development and promotion of people like Andy within the organisation is an integral part of evolution and growth not only for Meachers, but also for the individuals working for us, and for the transport industry as a whole."
Andy Sheppard, Depot Manager, Meachers Global Logistics said:
"I'm proud to have been part of the Meachers story since 2014 and I look forward to this new chapter; building upon the reputation and achievements of AFS Haulage at Fair Oak. It is an exciting era for Meachers and for the transport industry, and I'm looking forward to the new challenges and developments of the future."