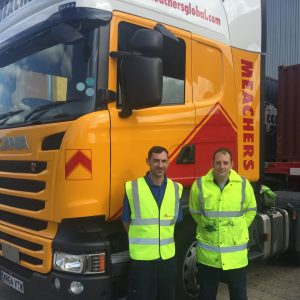 Meachers Global Logistics has launched its new 'Warehouse to Wheels' scheme in a bid to encourage its existing warehousing staff to pursue a career as a Heavy Goods Vehicle (HGV) driver
The project, which is fully funded by Meachers, will see individuals undergo an intensive driver training programme, leading to all the necessary professional qualifications for them to achieve a full HGV 1 license. The training will take place at Meachers' training facility at its Nursling headquarters.
The course, which can take several months to complete has already attracted three employees, all of which will be offered full time driver positions within the company on successful completion of the course.
Meachers trainee, Paul Fletcher, who is currently on the Warehouse to Wheels programme, said: "This course is a fantastic opportunity to not only progress my career but to take it in an entirely new direction. I hadn't really considered a career as a driver, but with the support of Meachers and the funding they are offering to get me fully qualified, I have much greater earning potential in a more skilled job."
Commercial Director, Gary Whittle said: "Across the logistics industry it is estimated that there is a need to recruit an additional 150,000 drivers by 2020 to satisfy demand. Employers are being forced to look at innovative ways in which to attract new people to this profession.
"For us, an obvious place to look was within our existing team, particularly within our warehousing department. The offer of free training and a guaranteed job driving state of the art HGV 1 vehicles is quite an attractive proposition and if the scheme proves successful then we hope to continue to offer the opportunity to those willing to take it."