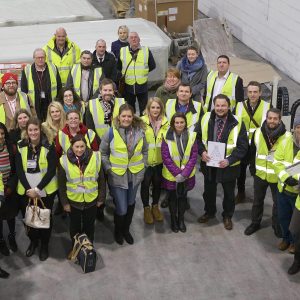 Local transport and Logistic specialist, Meachers Global Logistic, worked alongside The University of Southampton to deliver an eye-opening learning experience for European partners, as part of the CityLab Project.
The CityLab project is a European funded consolidation of both businesses and educational institutions bought together to develop knowledge and solutions which result in up-scaling and roll-out of strategies, measures and tools for emission-free city logistics in urban centres.
"Making Freight Consolidation Centres Work – Experiences from Southampton" saw some of the leading Transport and Logistics specialists from the South Coast highlight key issues. For example benefits of consolidation, business trends, electric delivery and sustainable distribution.
Gary Whittle, Commercial Director at Meachers Global Logistics said: "We are working hard as a company to reduce the number of vehicles servicing the city and the surrounding areas. We have a purpose built Distribution Centre at our Nursling Depot which consolidates deliveries so that they are less frequent, yet more efficient. The Sustainable Distribution Centre was established using the Local Sustainable transport Fund and operated by ourselves."
The delegates also heard from Chris Meayers-Norkett, Head of the Supply Chain, University Hospital Southampton about how consolidation is of benefit to large municipal organisations, Sam Clarke, Owner of Gnewt Cargo on electric deliveries as part of consolidation and Neil Tuck, Programme Manager for Local Sustainable Transport Fund on implementing the Southampton Sustainable Distribution Centre.
Tom Cherrett, Professor of Logistics and Transport Management, University of Southampton said: "It was a fantastic event and project to be involved with. All of the speakers gave a real insight into how we are successfully addressing the transport issues across the South Coast and helping businesses become more efficient and maximize productivity. It was a really successful event seeing people traveling from as far as Rome to attend and learn from us. Thank you to Meachers for organizing a tour of their facilities also – this really added value to the day."