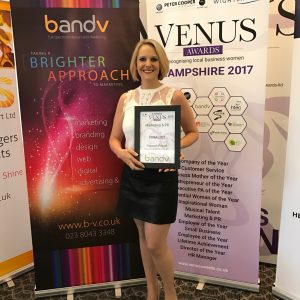 Meachers Global Logistics, one of the UK's leading independent providers of logistics services is proud to announce that their Marketing Manager, Hannah Powell, has made the final of the Marketing and PR category of the prestigious Venus Awards.
The category, sponsored by bandv, leading Hampshire content marketing and advertising agency, recognises women who have made their mark in Marketing and PR within their organization. This year marks the first year that the Venus Awards has encompassed the whole of Hampshire, spanning Southampton, Portsmouth, Winchester, the Isle of Wight and Basingstoke.
"Nominations this year for the 15 categories reached over 1,100, so I'm delighted to be one of the three finalists for this category," Said Hannah.
"I received a letter to say that I had be anonymously nominated for the award which was such a privilege in itself. Then to find out I was a semi-finalist of 11 and now down to the final three of the category has just been a dream for me," Hannah went on to say.
Gary Whittle, Commercial Director at Meachers Global Logistics said: "We are all so very proud of Hannah. She joined us a year ago and she has transformed our scatter-gun effect marketing to one which is strategic and well placed. She has taken Meachers from strength to strength in the last year and I am so pleased she is part of our team."
The Venus Awards, dubbed by Channel 4 as "The Working Women's Oscars", celebrate the contribution that women make to the local, regional, and national economy in business.  The Hampshire Venus Awards 2017, in association with Peter Cooper Motor Group and Wightlink, will culminate in a Ceremony and Gala Dinner to be held at The Spark, Southampton Solent University on Saturday, 11th November 2017.