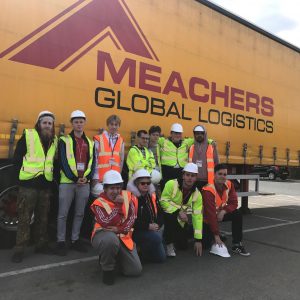 Over the last year, Meachers has been supporting a variety of projects with the Saints Foundation and it was fantastic to host the current intake of students here at our facility in Nursling to help educate them about the transport and logistics sector. Here is what they had to say:
"Saints Foundation's Premier League Works programme exists to offer young people, aged between 16-25, the opportunity to develop skills that will assist them in gaining employment. Saints Foundation utilises links with local businesses and organisations to provide unique experiences for its participants.
The 12-week programme aims to improve participants' confidence, teamwork and employability skills through a range of sports and business-based experiences.
Since starting in March, 2018, the current cohort has already undertaken work experience trips to Meachers Global and David Lloyd, as well as regular Street Football and boxing sessions, all with the aim of significantly improving their confidence ahead of employment opportunities.
The visit to Meachers Global, a logistics management company, highlights the wide array of opportunities available to the Premier League Works participants, and Hannah Powell, Meachers' Marketing Manager, sees the benefit of engaging with the Premier League Works programme.
"We have partnered with Saints Foundation because we feel that it is so important to engage with the younger generation," Hannah commented. "Especially in this industry where the average age of employees is on the rise. We really wanted to show the students that there were a number of opportunities within the logistics industry, and that attitude is key. The Foundation does some incredible work with a wide range of children, young people and adults across the city and we are delighted to be involved with this charity."
As well as visiting Meachers, the group have also enjoyed the benefit of a work experience visit with Asda, a CV workshop from IBM, a sports session delivered by Hampshire Cricket and a MyBnk Money Management qualification.
Moving forward, the current participants will have a busy schedule in the lead up to their graduation from the programme, including an extensive community renovation project at Swaythling Community Centre in Southampton.
The variety of opportunities within the programme means participants are challenged to work outside of their comfort zones in a supportive environment, which leads to positive results, as Adam Parrish has found out.
"Before the programme I felt really anxious about meeting new people," Adam said. "But since being on the programme I feel like a completely different person. It has been good in terms of getting back into a solid routine."
"Confidence was a major barrier, so not knowing anyone I was nervous at the start. But everyone has been so welcoming I felt at home very quickly."