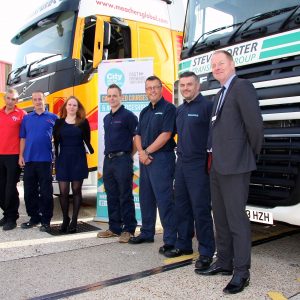 Meachers Global Logistics has appointed the first newly qualified Heavy Goods Vehicle (HGV) driver from a pilot scheme designed to encourage unemployed and unqualified individuals to train and pursue a commercial driving career
30 year old, Matt Lindsay has been employed by the firm having successfully completed the free programme, which combined a short period of study at Southampton's City College along with an intensive driver-training programme. He has now achieved a full C+E driver license.
The course, which was supported by a number of the City's logistics firms, Job Centre Plus and Southampton City Council, was designed to help alleviate the chronic shortage in HGV drivers within the logistics industry and offered applicants both professional training and a guaranteed job when they qualified.
Commenting on his new position Matt said: "I knew that there was a shortage of drivers in the logistics sector and the course provided me with the fantastic prospect of training for a Category C+E license. It means I now have the opportunity to drive an HGV on the road and I'm looking forward to working with a range of Meachers clients delivering goods all over the country."
Meachers Global Logistics, Commercial Director, Gary Whittle said: "We're delighted to welcome Matt on board. The programme offers a fantastic opportunity to train for a driving career with out having to foot the bill for expensive training and offers a potentially lucrative salary range that can be in the region of £25,000- £30,000 per year.
"We are always open to new ideas when it comes to recruitment and will continue to look at any original and innovative ways to ensure that we can continue to attract new drivers into the industry."
Meachers Global Logistics is one of the UK's leading independent providers of logistics services. For over 50 years, the company has built an enviable reputation by providing customers with complete solutions to their Freight Forwarding, Supply Chain Management, Warehousing, Distribution, Logistics and Contract Management, Training and Advisory requirements.