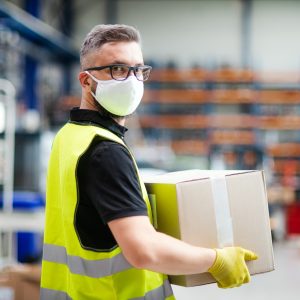 Early last year, when the COVID-19 pandemic began to spread, many countries implemented national lockdowns and ceased production of goods, which ultimately stalled economic growth.
As a consequence, shipping companies began reducing the number of cargo ships being sent out and the impact of this has been a sharp break in the usual flow of the import and export of goods.
Global lockdowns have resulted in consumer spending moving away from experience-led spending and towards physical goods. This has resulted in a very quick upturn in trade, which the supply chain has been unable to cope with.
With demand for products high but vessels unable to get into port at their scheduled times, and the loading process taking much longer due to the necessary protocols needed to keep workforces safe, this has generated a perfect storm where demand is outstripping supply.
As specialists in exports and imports, Meachers Global Logistics has been helping its customers to navigate the challenges of operating during the pandemic, advising them on the best course of action to take during this period of great uncertainty.

One such client is toob, a full-fibre broadband provider in the South of England who began working with us in 2019 and looks to us for warehousing and transport services.
"When the pandemic first began, social distancing rules created many obstacles; however, Meachers was very accommodating and provided a safe environment for toob employees to carry out activities where required.
"The industry has seen shortages of materials as a result of the pandemic and therefore uncertainty with delivery times. Meachers has been there by being flexible and accommodating to sudden changes in delivery schedules."
We've also helped toob to manage the logistics of Brexit and mitigate disruptions to its supply chain.
"Following Brexit, we required a customs agent to clear imported goods in the UK – Meachers has a customs service and offered to handle our imports which made the new process clean and stress-free for toob.
"Meachers is incredibly important to toob as a logistics partner. We rely on Meachers to provide accurate reporting on our stock and deliver materials to our contractors on time in order to build our network. We have a great relationship with Meachers and they have a great team of people that we really enjoy working with."
Rachel Farnan, Supply Chain Manager, toob
"The impact of COVID-19 on port and shipping operations, along with the shortage of transport, has led to the worst market conditions in the history of containerisation. Naturally, this has been a deep concern for many of our customers. Therefore, we are continually assessing the situation so that we can advise them on the best course of action to help lessen the impact to their supply chains."
Paul Uglow, Commercial Manager, Meachers Global Logistics

Meachers is proud to be at the forefront of international freight and transport logistics, providing all of our customers with solutions for freight forwarding, supply chain management, UK warehousing, distribution, training, transport, and contract management.
For more information:
To find out more about navigating the logistics of exports and imports, and making your supply chain work more efficiently for your business, please call Meachers Global Logistics on 023 8073 9999