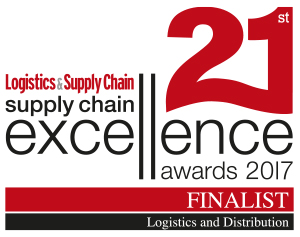 After winning one of the leading transport awards just last month, Meachers Global Logistics, one of the UK's leading independent providers of logistics services, has been shortlisted for yet another prestigious industry awards.
Together with Isle of Wight based Steve Porter Transport, and Solent ferry operator, Red Funnel Ferries, Meachers have been shortlisted for the Logistics and Distribution category for the 2017 Supply Chain Excellence Awards. These annual awards celebrate, recognise and reward organisations around the world that demonstrate excellence in their supply chain operations.
The three organisations have once again been recoginised for the formation of a Solent Alliance; an innovative and unique partnership facilitating a smarter Logistics and Distribution network for deliveries to the Isle of Wight; after just winning the Motor Transport Partnership award in July.
Steve Porter Transport Managing Director, Malcolm Gibson, said: "We are over the moon that not only have we just won the Partnership Award with Motor Transport, but we are now through to the finals for this prestigious award. The initial partnership was conceived to reduce duplication across our respective networks. The arrangement made it possible for Meachers to trunk our overnight groupage loads from the Isle of Wight to our Midlands Distribution Centres in Northampton and Coventry, for onward national distribution.
In turn, we as Red Funnel's Preferred Freight Partner, have the ability to bring in consignments, via Meachers, destined for the island."
Gary Whittle, Commercial Director at Meachers said: "Such is the success of this unique Solent alliance that the partnership has evolved from its original purpose, with the launch of a Southampton based cross-Solent consolidation service – the Sustainable Distribution Centre.
"Going through to the finals of another award shows how this innovative operation is really the first of its kind in the UK and draws upon the strengths of each organisation to overcome the many unique logistic challenges of delivering goods to the Isle of Wight whilst opening up a whole range of new benefits for customers."
This unique three-way Solent alliance has improved the breadth of services available to freight customers serving the Isle of Wight via Southampton. Businesses and retailers are provided with a full range of drop-trailer, full load and consolidated services to and from the Island.
Lee Hudson, Revenue Director at Red Funnel said: "This unique Logistics and Distribution partnership arrangement allows Red Funnel to concentrate on providing a first class ferry and holiday service, rather than having to worry about offering an internal haulage service. It is a truly unique way of working which we are delighted is being recognized not just in the UK but now with the Supply Chain Excellence Awards which is worldwide."
The winners of the 2017 Supply Chain Excellence Awards will be announced at a special event in London on 14 November.