Meet the Team
Bob Terris
Chairman
With over 50 years' experience in the transport and logistics industry, Bob is still very much involved in the running of the business. Joining the company in 1962 as a Traffic Operator – progressing through his career to Transport Manager, General Manager and then appointed Director in 1976. Five years later he became Managing Director and then Chairman in 2011. Bob has been integral to developing the business from a privately owned family run business to Subsidiary of International PLC and then led the management buyout to return it back to privately owned once again. Bob has a massive love for most things sport related and can be found at St Mary's watching Saints win most weeks during the season, hopefully.
Stuart Terris
Managing Director
Stuart qualified as a Chartered Accountant specialising in the logistics industry and joined the company in 1997, as a management trainee. To gain a thorough working knowledge of our business Stuart worked in each of our departments before being promoted first to Operations Director in 2008 and then to be our Managing Director in 2011.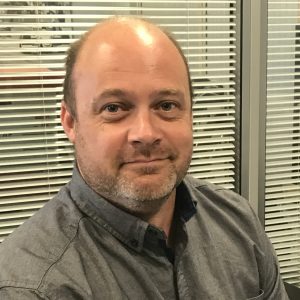 Jamie Terris
Director
Jamie joined the company straight from school in 1990 as a management trainee, starting in our warehouse before moving to the traffic office, taking on various roles. He then moved into our ERF franchise workshop and completed an HGV technician apprenticeship. When our garage was sold in 2005 Jamie was promoted to Fleet Engineer, responsible for our vehicles and then to Fleet Director in 2017. As a family business, it makes us proud how far we've come, with a great team at the helm.
Gary Whittle
Commercial Director
Gary has worked in the Logistics industry for over 30 years and has extensive knowledge in both transportation, general warehousing and logistics. Joining Meachers in 2000 he was responsible for all things commercial including Sales and Marketing. He was promoted to Commercial Director in 2009. In his current role, he is responsible for the warehousing and transport divisions as well as Company Compliance, Health & Safety and the Sales and Marketing departments. Gary is also a diehard Southampton FC Fan… there is a pattern here.
Noel Fensome
Finance Director
After qualifying as a Chartered Accountant and then spending three years working in Reading, Noel joined Meachers in 1999 as Management Accountant for the Commercial Vehicle dealership which was then part of the Group. In 2005 when the Group was restructured and he took over the role of Group Accountant with responsibility for heading up the Finance department for the two remaining divisions, which ultimately led to assuming the role of Financial Director in 2009. Almost everything that happens within the business touches finance and the Financial Director's role at Meachers is a varied one allowing access to most aspects of the business. Noel currently leads an experienced team of eight who deal with areas ranging from property to payroll, pensions and insurance in addition to the mainstream role of providing efficient and effective information that the board need to make the best corporate decisions.
Rob Lewis
Operations Director
Rob has been involved in Shipping for over 40 years. He joined Meachers when they acquired the Company that Rob was working for, at that time he was General Manager. Rob's current role is as Operations Director of the International Division for the Company, looking after both Imports and Exports by all modes of transport. In his time in the Industry he has held the post of Chairman of the Institute of Export Wessex Branch and Chairman of the Institute of Freight Forwarders Solent Branch( the fore runner of the British International Freight Association) as well as sitting on National committees of BIFA.